Starting them young: How universities help youth entrepreneurs build and scale their businesses
Starting them young: How universities help youth entrepreneurs build and scale their businesses
---
Open innovation (OI) is essential to drive Innovation and Enterprise movement and adoption in society, and not just for the youth segment. OI is essential as governments and corporations are reducing R&D budgets during hard times, and new frontiers tend to be interdisciplinary and require much more collaborative efforts than before.
---
In brief
Universities can act as hubs of creativity and innovation that spur ideation and quick iteration while providing students with a supportive network.
Partnerships between universities and corporations can provide students with opportunities to gain practical industry experiences and test their ideas.
Open innovation enables organisations and entrepreneurs to explore new ideas and concepts in a more resource-efficient way.
---
This article is featured in Special Feature: Nurturing Tomorrow's Innovators
In 2021, about 6 in 10 teenagers in the United States said that they were more interested in starting their own business than settling for a traditional job. While this reflects the next generation's innovative and go-getter spirit, the reality is that 90 per cent of start-ups fail, and 10 per cent fail within the first year. How then, can we increase these start-ups' chances of success? What types of structures, support systems, and scaffolds can nurture and bolster the potential of young entrepreneurs, and turn their enthusiasm into sustainable, successful enterprises?  
"Entrepreneurship is a lonely journey, and it can be very long before you reach a destination", says Mr Hau Koh Foo, Director of the Institute of Innovation and Entrepreneurship (IIE) of Singapore Management University (SMU) in a recent interview on national radio. "It is our hope, that through competitions like the Lee Kuan Yew Global Business Plan Competition (LKYGBPC), we can cultivate student entrepreneurs to a certain level, and give them a platform where they can interact with each other, cheer each other on and even learn from each other and collaborate. This will build a supportive community. It is not an easy journey, one which takes a lot of courage and ability – as well as luck – to succeed," he says. 
Organised by IIE, the LKYGBPC is a prestigious start-up competition that attracts young entrepreneurs from universities all over the world. Throughout its 12-year run, the renowned platform has demonstrated the game-changing role universities can play in boosting promising youth-led enterprises. As stated in Pioneering a Smart, Sustainable and Resilient Future, within the five-year period of 2017 to 2021, alumni from the biennial competition have raised USD 845 million, and several of their past participants had hit millions in sales. 
The start-up competition is just one element of the ecosystem approach that SMU has taken in recent years to build up Singapore's capacity in the area of youth innovation and entrepreneurship. Mr Hau Koh Foo, Director of IIE; Prof Lim Sun Sun, Vice President of Partnerships and Engagement at SMU; and Mr Keisuke Koshijima, Executive Vice President at Kajima Corporation and Managing Director at Kajima Asia Pacific Holdings Pte. Ltd share their insights on building an ecosystem that creates fertile ground for youth entrepreneurship.
Click on the boxes to learn more
Building an ecosystem 
"Budding entrepreneurs need access to mentors, investors, customers, and government regulators to build their businesses," says Mr Hau.
IIE offers this to students through its programmes that are designed to future-proof the youth with enterprising mindsets, equip them with the skills to find hidden opportunities in an increasingly volatile and risky environment and help them develop the mettle to commit to this high-risk path. 
"Universities are not just places of learning but also hubs of creativity and innovation", says Prof Lim. 
It is through dedicated programmes like the Global Innovation Immersion Programme and their Business Innovations Generator incubation programme that students gain first-hand experience, global exposure and hone their entrepreneurial skills in real-world settings, she shares. These also benefit student founders who range from those with pre and early seed-stage start-ups to those who have never raised funding.  

Connecting students to mentors is vital in developing a supportive network for young entrepreneurs, says Prof Lim. "Our professors and industry experts who are part of our SMU start-up community also mentor students through the complexities of starting and running a business by sharing their personal experiences as founders," she shares. "Furthermore, we connect current students with alumni, local business communities, and venture capitalists by facilitating valuable networking opportunities such as Venture Capitalist Office Hours." In addition to that, SMU also offers knowledge transfer and commercialisation advice for faculty who engage in innovation that can lead to new business ideas.
IIE also encourages and empowers students to start their own innovation movements from the ground up, through interest groups, hackathons and networking events. It has also pioneered experiential and peer learning programmes like Protégé Ventures, the first and only student-managed venture capital fund in South East Asia. It usually invests between $25,000 and $50,000 in early-stage start-ups founded by students with qualifications that range from diploma to PhD levels. These immersive programmes are deliberately designed to expose students to the life cycles of business and actively develop linkages between SMU labs and classrooms with the boardrooms, as well as provide experiences for students to fail forward.
By offering a safe space for experimentation and serving as hubs of knowledge and creativity, universities can serve as fertile grounds for ideation, quick iteration and innovation. By promoting network-building and connecting students to trusted mentors with wisdom to share, young entrepreneurs can have the support network they need to help them through this high-risk and high-failure adventure. 
The importance of tri-sector partnerships
Universities cannot foster innovation alone.
Collaborations between corporations, governments, and universities are a "win-win" for all parties involved, says Prof Lim. "First, universities are a source of fresh, innovative talent that offer corporations and governments young and creative ideas. Second, universities drive research and development, enabling corporations to stay at the forefront of innovation. Third, youth entrepreneurship also drives economic growth, creating jobs and fostering innovation."

Such tri-sector partnerships also enhance the whole ecosystem. First, there is a transfer of knowledge and expertise between academia and industry, while corporations and governments can provide funding for research projects and startups. An example, she says, is through different industry prizes for SMU's LKYGBPC, which attracts start-ups from around the world.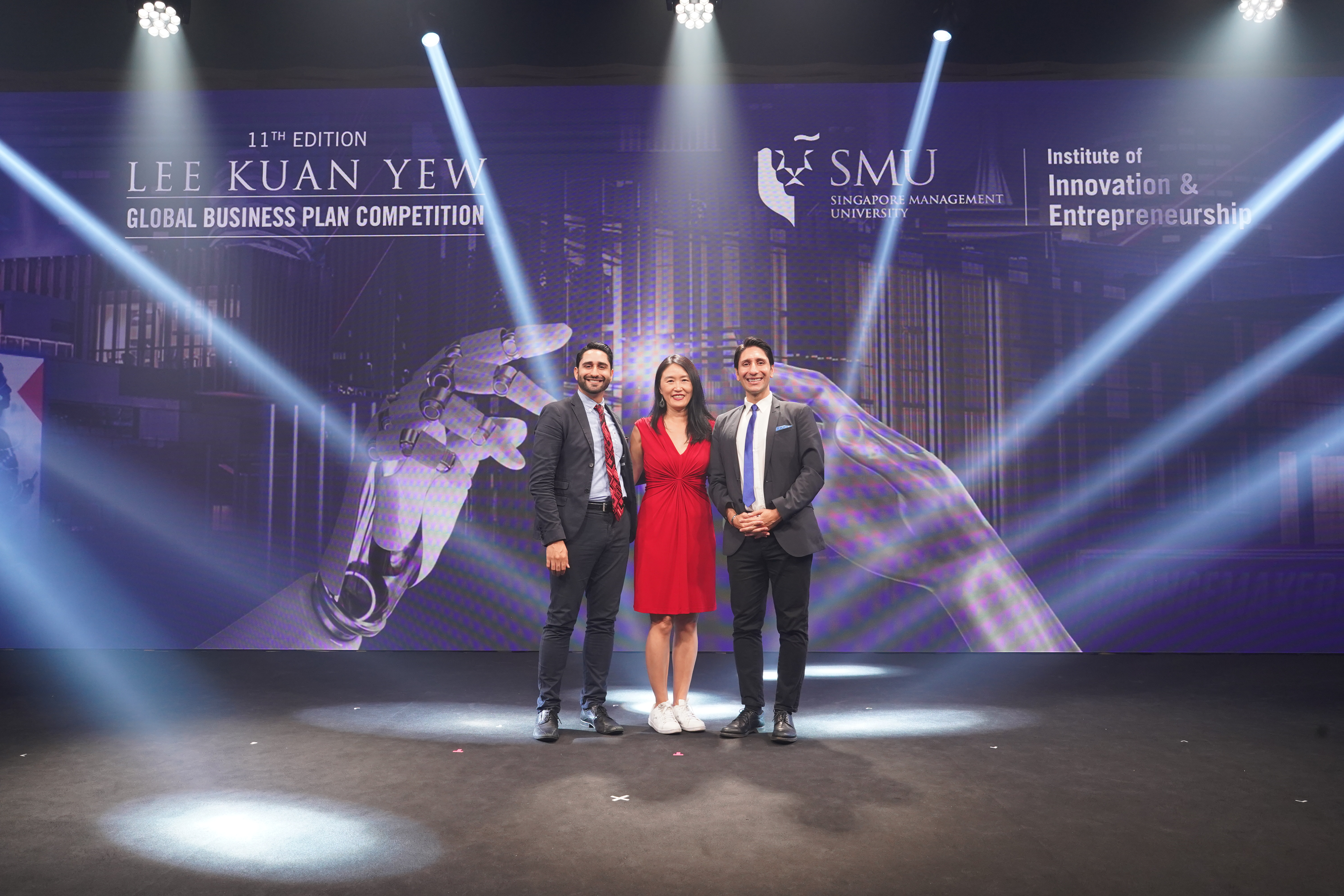 The Singapore government also wants to develop Singapore's potential as a hub for science, technology and innovation. Due to its size and nimbler regulatory environment, Singapore is in a unique position to foster these sorts of partnerships and innovations and allow innovators to develop prototypes quickly, says Deputy PM Heng Swee Keat at the opening of the LKYGBPC in September.
"Singapore is a small city and this allows us to prototype solutions faster than many other places. We have one single layer of government – if you need regulatory approval, it can be done quickly." 
Seeding frontiers of green tech - and student learning
A strong example of a partnership between academia and industry to seed innovation is one between SMU and Kajima Asia Pacific Holdings Pte. Ltd. (KAP), the Singapore-based regional subsidiary of Kajima Corporation. Signed in early 2023,  Kajima is Japan's leading construction and real estate firm, and the partnership aims to develop the built environment sector and shape future cities. It has drawn the attention of the Economic Development Board (EDB). Ms Jacqueline Poh, the Managing Director of the EDB, has noted it shows how "strong collaborations between industry players, startups, and academia can drive value creation for sustainable materials, the green economy and climate tech."
According to Mr Keisuke Koshijima Executive Vice President at Kajima Corporation and Managing Director at KAP, the partnership goes beyond traditional research collaborations. "Kajima's partnership with SMU is an example of an alternative modality where corporations and universities can collaborate to develop ecosystems and networks, as opposed to only developing core technology."
As an instance of how both parties worked to develop connections for industry and students, the SMU Sustainable Investment Club organised The GEAR Student Conference in August 2023. It was an entirely student-led event at The GEAR: Kajima Lab for Global Engineering, Architecture & Real Estate (The GEAR). This is Kajima's new regional headquarters, first overseas R&D centre, and global innovation hub in Singapore. Participants learnt about The GEAR's cutting-edge technologies and building infrastructure, allowing them to develop an interest in Kajima's technical projects and innovation activities. 
Also, through the Kajima Innovation Award worth a total of S$100,000 in the LKYGBPC, Kajima has identified four start-ups with innovative solutions. They include one from the Massachusetts Institute of Technology that allows any surface to be solarised, and Magorium, from SMU, that converts plastic into road-paving material.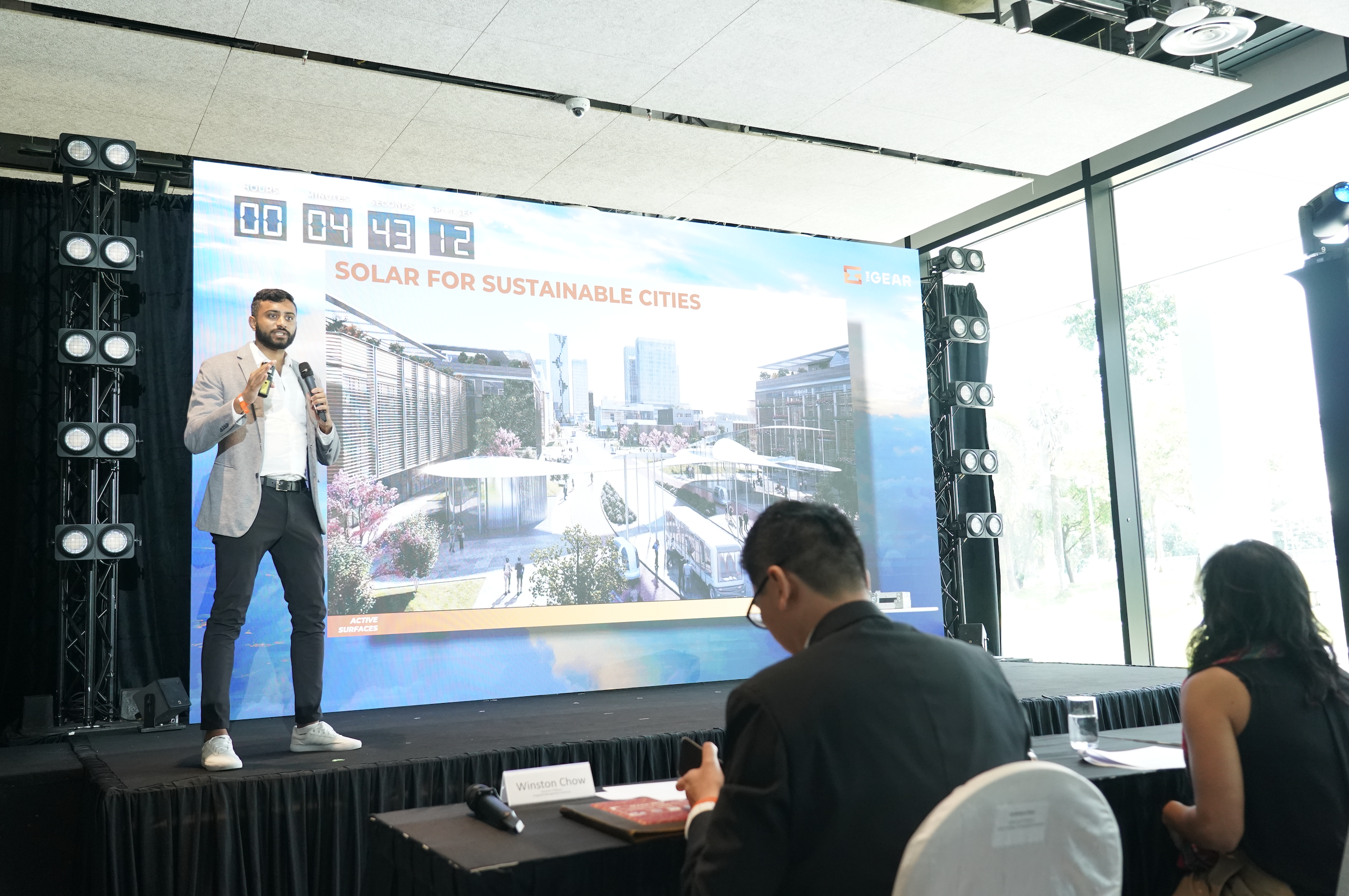 "Through its partnership with SMU's IIE, Kajima can identify new ideas to incorporate," says Prof Lim. What's more, she says, SMU students who have supported these start-ups with business intelligence get to develop an international outlook by working with a multinational construction company whose projects span diverse regions.
Growing the economy through  "open innovation" 
As Singapore is pushing the boundaries of innovation, the practice of 'open innovation' is vital. OI is an approach that allows companies to go beyond their staff and designated Research and Development (R&D) department, to engage a variety of external sources for innovative ideas.
"OI is essential as governments and corporations are reducing R&D budgets during hard times," observes Mr Hau, "And new frontiers tend to be interdisciplinary in nature and require much more collaborative efforts than before." The LKYGBPC is a way of attracting many Western early-stage deep-tech businesses here to Singapore, keen to use the city-state as a launchpad into Asia.  
For instance, PlasticFri, a German greentech company with a breakthrough technology that turns agricultural waste into products such as cups, straws, and packaging to replace plastics, is the winner of the 11th LKYGBPC INFINITY Prize in September 2023. The revenue-generating start-up is currently in talks with a potential client to offer more environmentally friendly products to Singapore consumers. 
Space to dream big
Most important of all, there is also the element of personal adventure that a supportive ecosystem like SMU offers.
During her speech at the opening of the competition, Prof Lim described how an SMU business school student connected with Iterative Scopes, a winner in the previous edition of LKYGBPC, for an internship in the United States. This eventually led to an offer to join the company full-time, also in the US. 
Helping ambitious students who have the right skills to dream big is vital. As Prof Lim observes, "Competitions like the LKYGBPC thus play a critical role in matching start-ups with bold ideas to individuals with the gumption to venture into new frontiers, strengthening the start-up ecosystem by collectively building up people and companies with entrepreneurial fervour."
Singapore youth have huge aspirations to succeed  - and it is in helping these young people start early that we can build up their confidence. 
For Mr Hau, ecosystem-builders who want to drive youth entrepreneurship and innovation should expose the youth to the industry and thought leaders through innovation hackathons even in school. "Start (them) young, as early as primary school. Celebrate success as well as failure, because it takes courage to try again and again before one succeeds as an entrepreneur." 
About LKYGBPC:
Organised by Singapore Management University's Institute of Innovation and Entrepreneurship, the Lee Kuan Yew Global Business Plan Competition (LKYGBPC) is a biennial university-led start-up challenge. One of the largest of such competitions in Asia, it derives its name from Singapore's founding Prime Minister Lee Kuan Yew, who developed the country's defining business plan that propelled Singapore onto the global stage. It is this spirit of entrepreneurship, innovation and ambition that the competition enshrines. LKYGBPC invites the brightest minds from the world's most entrepreneurial universities to come together to address the challenges of the 21st century and reimagine the future.
This is one of the many events held as part of the SMU Sustainability Series 2023 that ran from July to October 2023. Through this platform, SMU hopes to engage with its stakeholders and partners to further the discourse on sustainability, as well as showcase some of the key milestones that SMU has achieved as charted out in its Sustainability Blueprint.
For more information: smu.sg/lkygbpc 
About SMU IIE:
The Singapore Management University's Institute of Innovation and Entrepreneurship (IIE) is a practice-oriented institute that nurtures changemakers and founders who aspire to make the world a better place. To achieve this mission, IIE focuses on its three areas of competencies which include customising training programmes, offering an equity-free incubation programme, and fostering a cohesive innovation and entrepreneurship community through activities such as its marquee event – the Lee Kuan Yew Global Business Plan Competition (LKYGBPC). For more information: https://iie.smu.edu.sg
What insights come to mind?
What insights come to mind?
Click to respond and see what others think too
What makes you skeptical?
We read every single story, comment and idea; and consolidate them into insights for our writer community.
What makes you curious?
We read every single story, comment and idea; and consolidate them into insights for our writer community.
What makes you optimistic?
We read every single story, comment and idea; and consolidate them into insights for our writer community.
What makes you on the fence?
We read every single story, comment and idea; and consolidate them into insights for our writer community.