Building a Sustainability Talent Pipeline for Indonesia
Grand Hyatt Jakarta
About this event
SMU's commitment to the growth in Asia is steadfast. By setting up the University's first overseas centre in Indonesia, the largest economy in Southeast Asia and Singapore's longstanding bilateral partner, SMU hopes to deepen engagement with the Indonesian community through knowledge exchange, partnerships and collaborations. The SMU Overseas Centre in Jakarta will work closely with partners to understand local issues, explore opportunities for research and knowledge transfer to address challenges, and make meaningful impact by contributing to the social and economic development of the local community. In conjunction with the launch of SMU Overseas Centre Jakarta on 6 December 2022, SMU Is bringing its Presidential Distinguished Lecturer Series (PDLS) to Jakarta. Started in 2015, this is the first time PDLS is held out of Singapore.
Topic: Building a Sustainability Talent Pipeline for Indonesia
Moderated by SMU President Professor Lily Kong, the panel comprising Ms Shinta Widjaja Kamdani, CEO, Sintesa Group; Mr Aldi Haryopratomo, Entrepreneur on Sabbatical; Mr Bernard Tan, Country President (Singapore) / Managing Director APP, Sinar Mas and Mr Gulshan Harjani, Founder and Chief Executive Officer, CommunicatingWorld will discuss Building a Sustainability Talent Pipeline for Indonesia.
The event will be held at 6.00pm - 8.45pm (GMT+7)
Speakers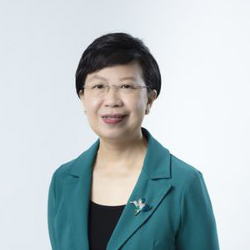 President, Singapore Management University
Full Bio
About the speaker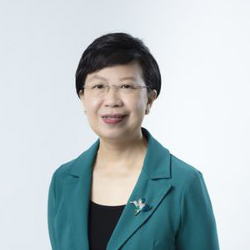 Prof Lily Kong
President, Singapore Management University
Professor Kong is SMU's fifth President, and the first Singaporean to lead the 22-year-old university. She is also the first Singaporean woman to head a university in Singapore. She was previously Provost of SMU, Vice Provost, and Vice President at the National University of Singapore (in various portfolios).
Professor Kong is internationally known for her research on urban transformations in Asian cities, with particular focus on social and cultural change. She has written extensively about communal relations, particularly, the intersection of religion and secularity in cities, creative industries/cities, urban heritage conservation, and smart cities. She is an award-winning researcher and teacher locally and internationally.
Prof Kong was conferred the Public Service Star in 2020 and Public Administration Medal (Silver) in 2006. In a global study by Stanford University (2020), Prof Kong was identified as among the world's top 1% of scientists in the field of Geography. She was included in the Forbes Inaugural 50 over 50 (Asia 2022), recognised in Kompasiana Online (2021) as one of the 10 most influential women in Asia, and in Forbes Asia's Power Businesswomen list (2020).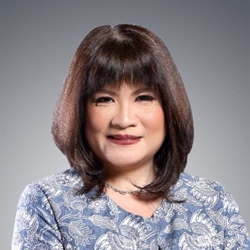 Speaker
Shinta Widjaja Kamdani
Chief Executive Officer Sintesa Group
Full Bio
About the speaker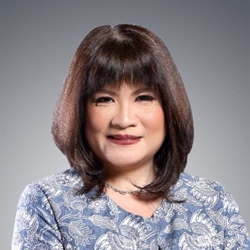 Shinta Widjaja Kamdani
Chief Executive Officer Sintesa Group
As Owner and Chief Executive Officer of the Sintesa Group, Shinta is responsible for the Management and Expansion of the Group's business interests in Indonesia. The Sintesa Group is an Indonesian group with 16 subsidiaries, which operates under four main pillars: the Property, Energy, Industrial Products, and Consumer Products.
As a businesswoman, Shinta is involved in numerous business and social activities, including as the Coordinating Vice Chairwoman III for Maritime, Investment and Foreign Affairs of Indonesian Chamber of Commerce and Industry (KADIN Indonesia), Vice Chairwoman of Employers' Association of Indonesia (APINDO), Regional Coordinator for the Asia-Pacific and Executive Board Member of International Chamber of Commerce (ICC), President of Indonesia Business Council for Sustainable Development (IBCSD), as well as founder of Indonesia Business Coalition for Women Empowerment (IBCWE) and Angel Investment Network Indonesia (ANGIN), and the Member of APEC Business Advisory Council (ABAC) Indonesia. She was chosen by the United Nations as one of 30 global corporate leaders to join the Global Investors for Sustainable Development (GISD Alliance). She was also elected to serve as Chair of B20 Indonesia during the Indonesian Presidency at the 2022 G20 Summit.
Shinta graduated from Barnard College of Columbia University New York in 1989 and Executive Education at Harvard Business School, Boston, Massachusetts, USA in 2002.
As part of her achievement, she was named Fortune Indonesia's 20 Most Powerful Women 2022, The Asia Corporate Excellence & Sustainability (ACES) Woman Entrepreneur Of The Year 2019, FORBES Asia's 50 Powerful Businesswomen (2012, 2013, & 2016), Business Indonesia Award's 30 Best CEOs 2015, among many others. In 2017, she was decorated as the Commander of the Polar Star by the King Carl XVI Gustaf of Sweden and the Commander of the Order of Leopold of Belgium.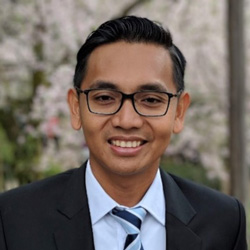 Speaker
Aldi Haryopratomo
Entrepreneur on Sabbatical
Full Bio
About the speaker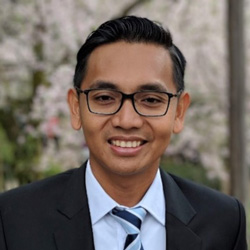 Aldi Haryopratomo
Entrepreneur on Sabbatical
Aldi has spent most of his career in Fintech, which started at Kiva.org, one of the world's first peer-to-peer lenders led by some early employees of Paypal and Google. He then joined the Boston Consulting Group, where he gained experience on how to develop payment businesses and the intricacies of digital penetration into remote regions.
Following that, he was a Young Global Leader at the World Economic Forum for five years, after which he founded Mapan.id, which provides rotating savings and loan products to Indonesian households. Mapan, Kartuku (similar to Pine labs), and Midtrans (similar to Stripe) were acquired by Gojek, and he was appointed the CEO of Gopay. His team grew Gopay from less than one thousand transactions daily payments to a full stack fintech group operating in Indonesia, Vietnam, Thailand, and Philippines. After hitting a major funding milestone and with Gojek about to IPO, he felt it was the right time to move on.
Since then, he has been mentoring the teams at Halodoc (a digital health-tech platform), eFishery (a tech focused aquaculture platform), and Kitabisa (a digital fundraising platform) from their seed round phase and has officially joined their Board of Commissioners.
Aldi is also active in serving the community and volunteers his time and expertise in serving as Vice Chair of the Indonesian Chamber of Commerce, where he is in charge of entrepreneurship, and as Vice Chair of the Fintech Association.
Aldi is a member of the SMU International Advisory Council Indonesia.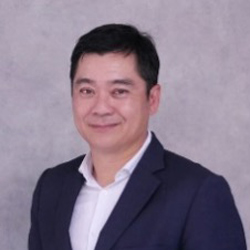 Country President (Singapore) / Managing Director APP Sinar Mas
Full Bio
About the speaker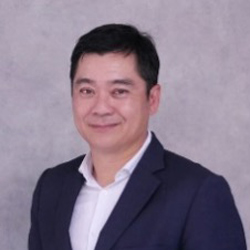 Bernard Tan
Country President (Singapore) / Managing Director APP Sinar Mas
Bernard is the Country President for Sinar Mas in Singapore, and the Managing Director of Asia Pulp and Paper. Over the last six years he has been intimately involved in Sustainability as a function, and has been very focused on ESG issues, especially with regard to fire and haze, on the rehabilitation of landscapes, and on carbon markets.
Bernard was previously Chief Marketing Officer at ST Engineering and was also a Managing Director in DBS where he served as Country Head of DBS in both Taiwan and Indonesia. Prior to this, Bernard was a Brigadier-General in the Singapore Armed Forces where he served for 22 years.
Bernard holds a Bachelor's degree from the University of Birmingham, UK (First Class Honours) in Economics and Political Science, and a Masters of Business Administration from the Massachusetts Institute of Technology, USA.
He is currently the President of the Football Association of Singapore, the Chairman of Catholic Junior College, and a Board Member of the Singapore Sports School.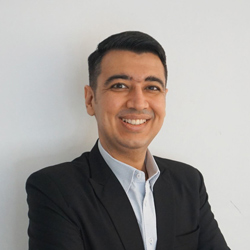 Founder and Chief Executive Officer Communicating World
Full Bio
About the speaker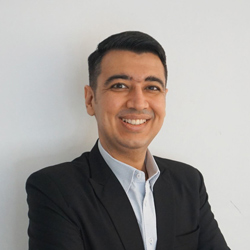 Gulshan Harjani
Founder and Chief Executive Officer Communicating World
With over 15 years' experience conducting training and coaching for some of the world's most successful organizations in 28 cities across 10 countries, Gulshan is an International Public-Speaking Expert, Author, Trainer & Coach. A Singaporean, he is the Founder & CEO of CommunicatingWorld and the Author of a book called Talk-it-Easy!
Gulshan believes that his mission is to help as many people to communicate more effectively and achieve greater success. This is why he set up a training firm, wrote a book, and conducts seminars, workshops and coaching – in this area. Over the years, his thoughts and ideas have been published by The Jakarta Post newspaper and SME magazine. In addition, his success stories were featured in The Straits Times and The Business Times newspapers, the inaugural Singapore Management University (SMU) Imagine Better book, and the SMU Alumni Newsletter.
Gulshan believes in Giving Back, and does so in many ways: He serves as the President of the SMU Alumni Indonesia Chapter, and Member of the SMU International Advisory Council for Indonesia. He conducts pro-bono trainings for non-profit organizations and regularly contributes a percentage of his earnings to UNICEF (supporting less privileged children) and SAJA (a free school in Jakarta set-up to keep children off the streets). This continues to be a significant part of his life!
Gulshan is a member of the SMU International Advisory Council Indonesia, and President of the SMU Alumni Chapter in Indonesia.
Welcome Remarks by SMU President Prof Lily Kong
Keynote Address by Nadiem Anwar Makarim, Minister of Education, Culture, Research, and Technology of Indonesia
Topic: Reimagining Education through Collaboration
Official Launch of SMU Overseas Centre Jakarta
The SMU Presidential Distinguished Lecturer Series (Panel Discussion)
Topic: Building a Sustainability Talent Pipeline for Indonesia
Moderator: Prof Lily Kong, President, Singapore Management University
Panellists:
Ms Shinta Widjaja Kamdani, Chief Executive Officer, Sintesa Group
Mr Aldi Haryopratomo, Entrepreneur on Sabbatical
Mr Bernard Tan, Country President (Singapore) / Managing Director APP, Sinar Mas
Mr Gulshan Harjani, Founder and Chief Executive Officer, CommunicatingWorld