Young Adults Can Use More Help in Financial Wellness
Young Adults Can Use More Help in Financial Wellness
---
---
In light of the ongoing pandemic, changing financial landscape and evolving job market, are the young adults in Singapore able to withstand financial challenges that come their way? How financially literate and resilient are they?

These are key questions the Citi Foundation-SMU Financial Literacy Programme for Young Adults aims to understand in its inaugural survey conducted between March and April 2021.

The Financial Inclusion, Wellness and Resilience (FInWR) survey, which included a total of 1,068 participants aged between 18 and 30, suggests the need for more efforts to improve the financial literacy and resilience of young adults.

Assistant Professor Aurobindo Ghosh, Citi Foundation-SMU FinLIT Programme Director and Principal Investigator (Research) and head of the FInWR research project shared the survey's key findings at the 8th Citi Foundation-SMU Financial Literacy Symposium held on 10 and 11 September.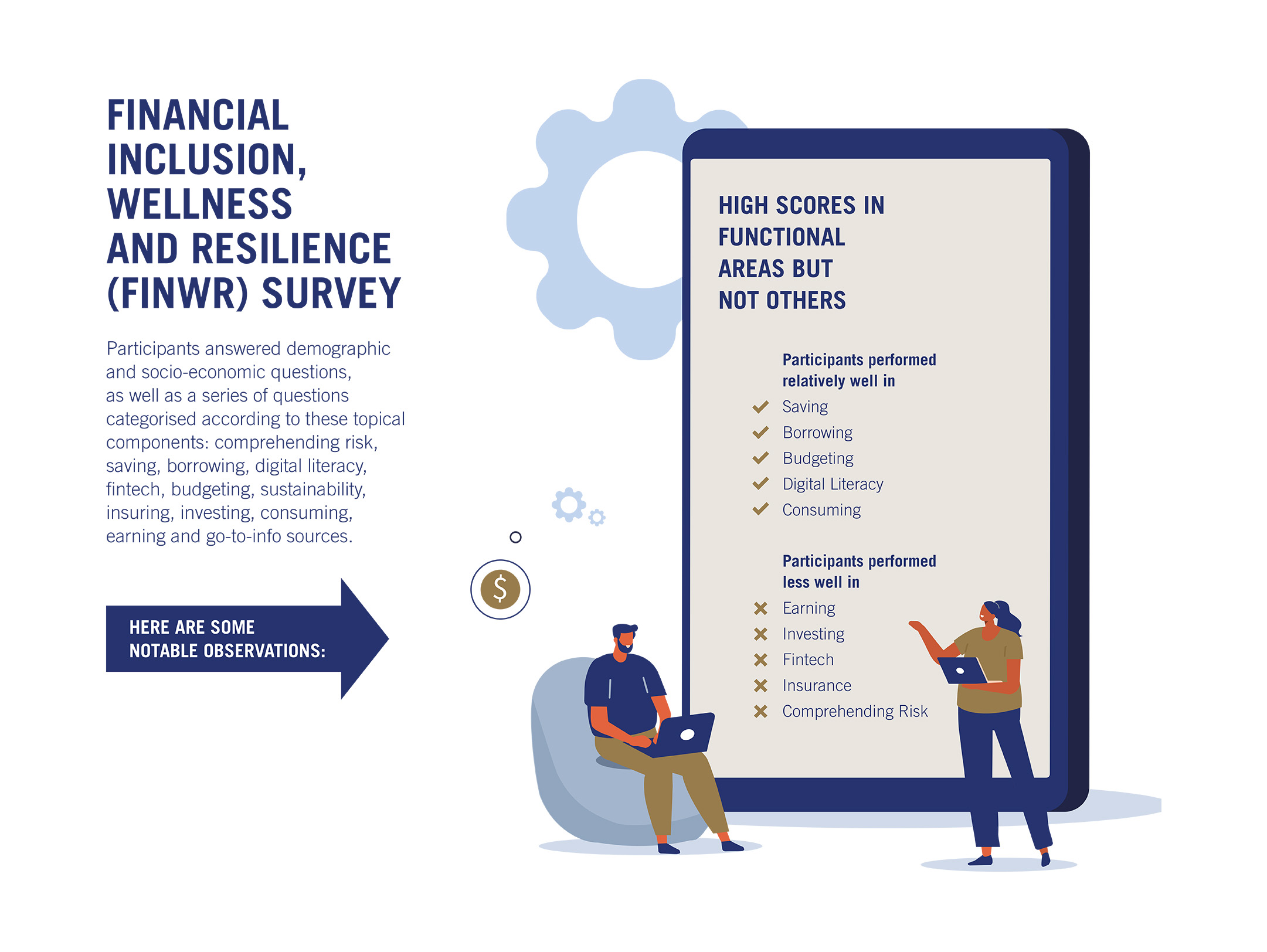 Respondents of this survey expressed greater confidence in planning for retirement, possibly due to the availability of the Central Provident Fund (CPF) and in their ability to make ends meet. Similarly, higher FInWR scores are also consistent with higher financial resilience on availability of sufficient emergency funds, more manageable debt, better retirement planning, access to emergency credit for purchase essential items and to make ends meet.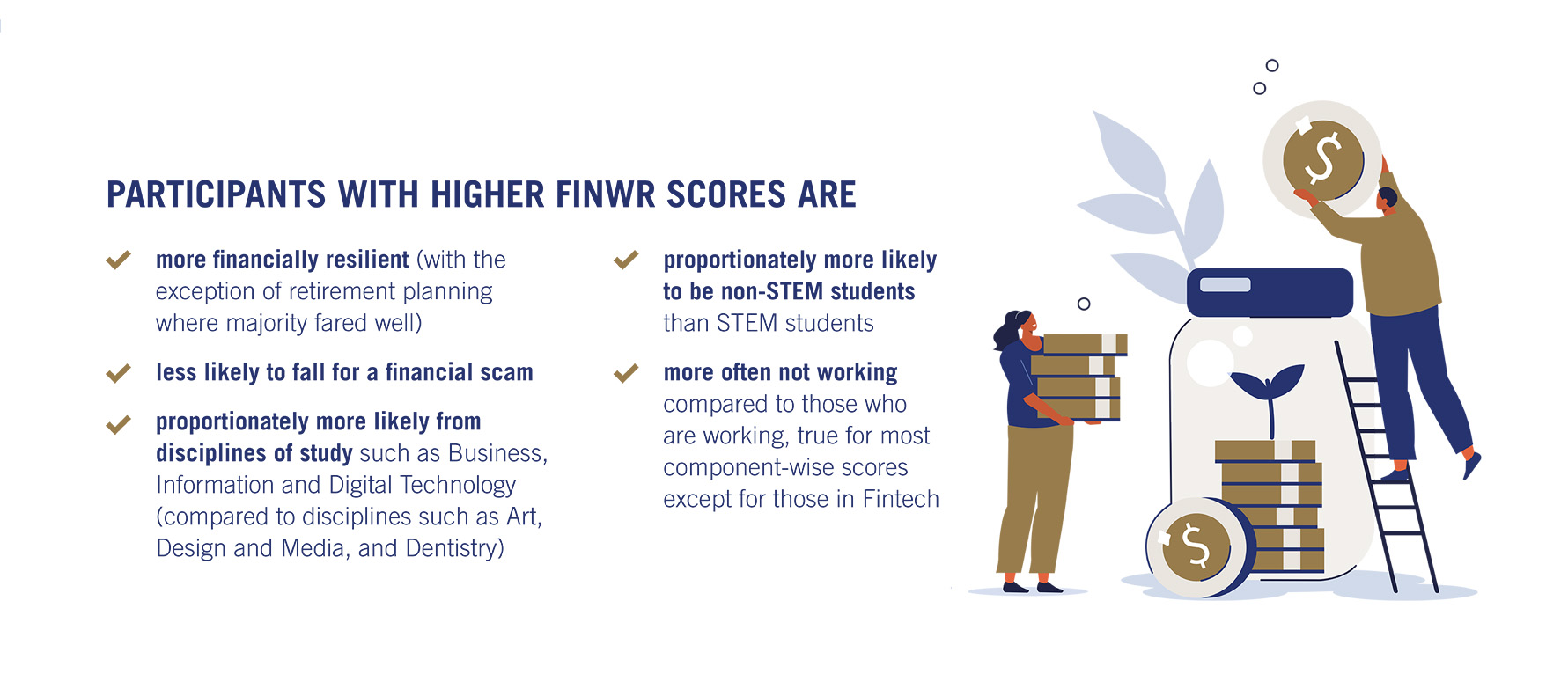 The survey produced a comprehensive quantitative measure of the participants' financial wellness and resilience score to benchmark future waves of the FInWR and other financial literacy surveys.


Applauding the programme's efforts to increase financial literacy awareness in Singapore, SMU President Professor Lily Kong noted that the survey findings are an important reference for various stakeholders to formulate intervention measures for different young adult groups to level up their financial literacy and, beyond that, strengthen their financial resilience.
Launched in April 2012 by Citi Singapore and SMU with the support of the Citi Foundation, the Citi Foundation-SMU FinLIT Programme for Young Adults seeks to equip young adults between the ages of 15 and 30 with essential personal finance knowledge and skills applicable to their life stage, to give them a firm foundation in managing their money and a financial head-start early in their lives.

Since the launch of the programme, over 70,000 young adults have benefited from being engaged in a wide range of topics, including basic money and credit management, financial and retirement planning, home and car ownership, as well as principles of investment. Through its unique peer-to-peer training model, over 1,100 student trainers have been certified through the programme.

"Financial wellness and financial resilience are key factors of personal and professional development goals that are catalysed by financial inclusion," shared Professor Ghosh.

He noted that according to a University of Maryland Guide to Living Well, financial wellness includes one's relationship with money, skills to manage resources to live within one's means, making informed financial decisions and investments, setting realistic goals, and learning to prepare for short-term and long-term needs or emergencies. Part of this dimension includes an awareness that everyone's financial values, needs and circumstances are unique.

"Individuals with working financial knowledge and sufficient financial wellness and resilience at an early stage can make more informed economic decisions and judgements vis-à-vis the aggregate population," he said.

Adapted from: https://news.smu.edu.sg/news/2021/09/13/1-3-young-adults-singapore-are-not-confident-managing-debt
---