Fireside chat with Temasek's CEO: Unlocking Southeast Asia's potential in a time of uncertainty
Fireside chat with Temasek's CEO: Unlocking Southeast Asia's potential in a time of uncertainty
---
---
"If we continue to move in the momentum we're moving in Southeast Asia, Southeast Asia will be a bright spot for investments" — Dilhan Pillay Sandrasegara, CEO of Temasek
In Brief
Macroeconomic factors, geopolitical tensions & the pandemic, foreign investment regimes, industry & workforce 4.0, digitisation & cybersecurity and climate change are six top-of-mind issues that play a decisive role in Temasek's investment strategies.


Southeast Asia remains a bright spot for investment despite today's climate of global instability. ASEAN nations are on the right path, but improvements in financial infrastructure and the possibility of a common economic market would be powerful propellants for the region.


Companies that delve in sustainability or involve the convergence of two or more fields (e.g., Agri-food tech) are seen to be especially valuable, and therefore hold great promise from an investment perspective.
---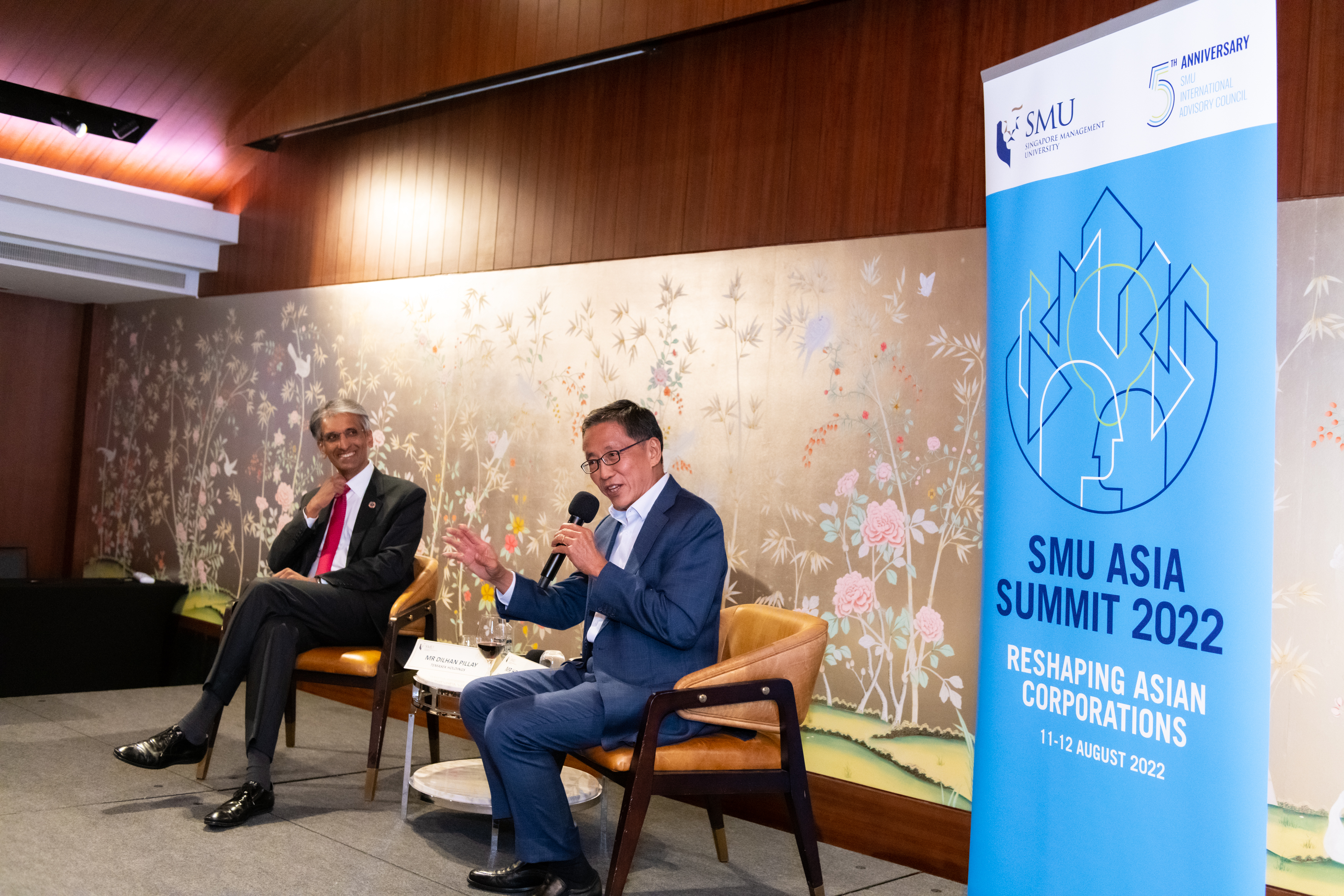 Mr Dilhan Pillay Sandrasegara and Mr Ho Kwon Ping at the International Advisory Council Asia Summit 2022
On 11 August 2022, Mr Dilhan Pillay Sandrasegara, Chief Executive Officer of Singapore's state-owned investor Temasek, sat down with SMU Founding Chairman, Mr Ho Kwon Ping for a fireside chat as part of SMU's International Advisory Council (IAC) Asia Summit. For the benefit of attendees who came from different parts of the region, Mr Pillay shared a brief history of Temasek - why it shifted its focus from the development of Singaporean businesses to investing in a more global portfolio, and how it uses competition among its own satellite platforms to encourage nimbleness and ensure quality investments. He also shared six top-of-mind issues that affect Temasek's investment strategy and decision-making, regional challenges that he believes are preventing Asia from achieving its full potential, and the opportunities that lie at hand.
Changes on the horizon
In 2019, Temasek came out with a 10-year strategy to take them to 2030, and highlighted six top-of-mind issues that play a decisive role in their investment strategies. Mr Pillay discussed these six issues in relation to global challenges he sees today.
Click on the icons to interact

Click here to view the accessible version of this interactive content
Against this backdrop of change and uncertainty, Mr Pillay's word of advice to CEOs, board members and management teams is to constantly think about what it means for business model transformation, job design and redesign. This extends to workforce skilling, reskilling and upskilling. He shared that companies need to lead the way instead of depending solely on the government to look after the population, and that everyone in the ecosystem has a part to play.
Unlocking Southeast Asia's potential
Mr Pillay assured attendees that even amid these challenges and complications, opportunities abound and Southeast Asia in particular, remains a bright spot for investment. He referenced a report titled the 'e-Conomy Southeast Asia Report' that was released by Temasek, together with Google and Bain & Company. In the 2019 edition, the report stated that by 2025, the internet economy in Southeast Asia would be worth 300 billion USD (this number was later increased to 360 billion USD in the 2021 edition). Meanwhile, the forecast for 2030 is between 700 billion and 1 trillion USD. He shared that so far, the actual number has always overshot their forecast, suggesting an optimistic outlook for the region if this momentum continues.
The challenge however, lies in monetisation. Mr Pillay shared that the financial infrastructure (e.g., stock exchanges, venture capital and growth equity) needed to support businesses in Southeast Asia are currently weaker than the opportunity set and the potential that can be attained. He therefore believes greater focus must be placed on building the type of financial infrastructure needed to support the innovations coming to Southeast Asia. In particular, he is excited by the possibilities that the ASEAN Economic Community could offer, as a common economic market complete with cross border trade, connectivity, supply chain benefits and the like. He shares that external investors looking into Southeast Asia would see a $3 trillion plus market, equivalent to the size of India's market, but with 600 million people as opposed to 1.4 billion people. This means a higher affordability level for consumption-based opportunities. 
Mr Pillay shared that opportunities in sustainability are on a positive trajectory, whether in the form of renewable energy, sustainable food production or water resource management. He gave special mention to companies that convert "science into business models in as short a time as possible" and shared that technological advances are unlocking many new opportunities in the biosciences space, including pharmaceuticals, biotechnology and agri-food tech. He says "we like convergence because it creates value. So, we go wherever we see the possibility of convergence." 
---
About The SMU International Advisory Council
The SMU International Advisory Council was created to establish, strengthen and deepen SMU's collaboration and engagement with the government, academic and business communities in the key Southeast Asian countries and China/Hong Kong.
It seeks to collaborate with and involve friends of SMU and its alumni to reach out to corporates and grow the friends of the community in overseas countries. The Council will provide platforms for active engagement between SMU's overseas alumni, international students, and the local business community and academia.
The aim is to showcase SMU's thought leadership, thereby providing opportunities for regional impact and creating international relevance for SMU and its stakeholders.
Source: https://www.smu.edu.sg/about/international-advisory-council
Ho Kwon Ping 
Ho Kwon Ping is the Founder and Executive Chairman of Banyan Tree Holdings and Laguna Resorts and Hotels, and Executive Chairman of Thai Wah Public Company. All three family-owned companies are listed in Singapore and Thailand. He is also the founding and current Chairman of the Board of Trustees of Singapore Management University and Chairman of The Singapore Summit. Read his full bio here. 
Dilhan Pillay Sandrasegara
Dilhan Pillay joined Temasek in September 2010. He was appointed Executive Director and CEO of Temasek on 1 October 2021 and is concurrently the CEO of Temasek International, a position he has held since April 2019.
Dilhan has held various leadership roles in Temasek, including Head of the Investment, the Portfolio Management and the Enterprise Development Groups. He has also led the Temasek market teams in Singapore and the Americas.
Prior to Temasek, Dilhan was the Managing Partner of WongPartnership LLP. He has over 20 years of legal experience, mainly focusing on mergers and acquisitions, corporate governance and corporate law. He also served on SMU's Board of Trustees between 2005 and 2020.
---